Audiovert
Hexagon-shaped speaker panels help you express yourself both sonically and visually
As a teenager, Northwestern Engineering graduate Ahren Alexander ('16) loved personalizing different aspects of his life — his clothes, his bedroom, his electronic gadgets. Surrounding himself with things that reflected his life and personality instilled a sense of pride.
But Alexander, who is a music lover, could not help but notice the dullness of his audio speakers. Music is a powerful force that brings people together, makes them dance, and transcends language. The tools people use to bring music to life, however, are typically uninspiring and underwhelming.
While a sophomore in IEMS 225: Principles of Entrepreneurship, Alexander realized that he could solve this problem. The solution: Audiovert, a company that makes visually inspired, customizable speaker systems to extend the listening experience beyond sound and into the realm of sight and emotion.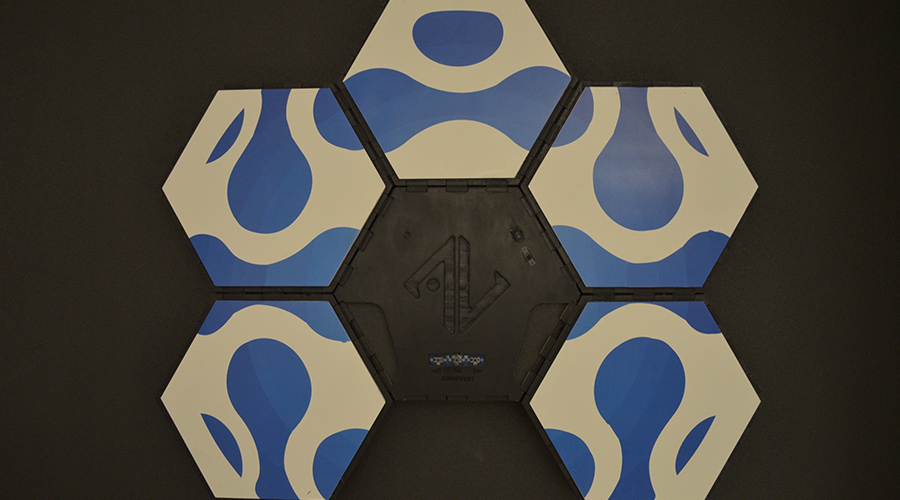 Our dream is to replace the traditional 'black box' speaker system with a speaker that has a soul, a speaker that reflects who you are, and evokes nothing but joy.Ahren Alexander, Audiovert, founder, CEO, and lead product engineer
The Product
Audiovert's Hexon is a customizable speaker that goes beyond sound, enabling people to tell their stories both sonically and visually. The Hexon puts its user in control of color, size, power, and price. By adding and connecting hexagon-shaped panels, the user can build a speaker system in various shapes and sizes.
Benefits
Customizable to reflect personality and taste
If one panel breaks, it can be replaced without needing to replace the entire system
Each speaker comes with wireless capabilities using Bluetooth technology and lithium-ion batteries
AC/DC power adapter and AUX input capability are included
Hexon does not sacrifice quality audio for visuals: it produces a clear, room-filling sound
Born in the Garage
Audiovert was one of The Garage's first resident startup companies. A cross-disciplinary entrepreneurship space, The Garage provided mentorship, funding, and resources to help launch Audiovert off the ground. After conducting customer interviews, user observations, and primary research, Alexander built the first Hexon model in The Garage with a 3-D printer, soldering iron, and a drill.
"One of the primary ways that The Garage has helped us develop the Hexon is by giving us the ability and space to spread out and get messy."
Current Status
Three Hexon models are now available through Audiovert's website. Alexander is in talks with CB2 and Ikea to get Hexon into stores and has a pending partnership with Red Bull. Audiovert was the sole undergraduate finalist in the 2016 Northwestern University Venture Challenge.

Updated August 2016
Website
http://audiovert.com/
Course
IEMS 225: Principles of Entrepreneurship
Team Members
Ahren Alexander (manufacturing and design engineering)
,
Jamie Chen (materials science and engineering)
,
Justin Fleischmann (Weinberg College of Arts and Sciences)
,
Agam Gupta (computer science)
,
Joon Park (Weinberg College of Arts and Sciences)
,
Alex Wilke (mechanical engineering)