FruitBrite
A pod to keep fruit fresh

NUvention: Energy program directed by clinical associate engineering professor Mark Werwath.
Problem
More than 40 percent of produce grown on agricultural lands in the United States will not be consumed. In impoverished regions across the globe such as sub-Saharan Africa, that number sits even higher. With a focus on distributors, the produce supply chain middlemen who experience constant inventory shrinkage, the Hazel Technologies team looked to minimize the food spoilage rate.
Fruits and vegetables are some of the agriculture's most resource-intensive crops, so when fruits and vegetables are wasted, both the resources used to cultivate the produce and the produce itself is wasted. A solution to help alleviate this problem is clearly a worthwhile pursuit.Patrick Flynn, FruitBrite, Co-founder
Solution
FruitBrite is a biodegradable pod that utilizes smart biotechnology to reduce spoilage and maintain freshness in a wide variety of different fruits, vegetables, and ornamental plants. The product's core innovation is the revolutionary slow and uniform release of ethylene-inhibiting materials that have been commonplace in the food industry for more than 25 years.
Until now, ethylene-inhibition treatments have been fundamentally limited in terms of how long they can protect produce by inhibiting ethylene, the aging hormone in most fruits and vegetables. The FruitBrite technology slowly releases ethylene-inhibiting material into the air surrounding produce over a two-week time period, a vast improvement from current technologies that last but a few days.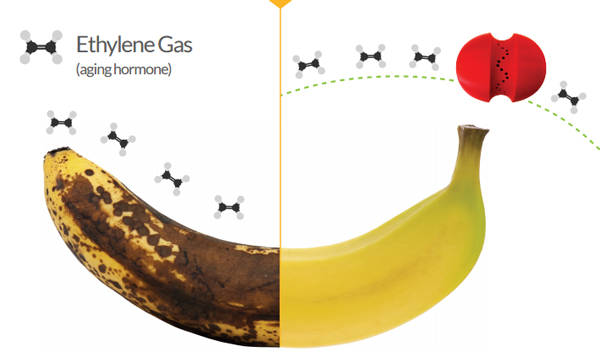 Development Process
In June 2015, following positive feedback from NUvention: Energy as well as a seed-grant funding from the Institute for Sustainable Energy at Northwestern, the Hazel Technologies team closed a small angel investment round to develop its minimum viable product. By November 2015, the founders held their first working product and began initial testing in early 2016. The FruitBrite team has since earned a $100,000 Phase 1 Small Business Innovation Research grant from the United States Department of Agriculture, a $500,000 prize from the Clean Energy Challenge, and additional funding from organizations such as VentureWell and the Northwestern University Venture Challenge.
The team's core idea has remained steady throughout as has its focus on distributors. There have, however, been various iterations of the pod design, including ongoing ideation of reusable pods to further minimize environmental impact.
Current Status
A July 2017 profile in Crain's Chicago Business revealed that, in addition to expanding its customer base with its FruitBrite technology, Hazel Technologies is developing BerryBrite, which uses a proprietary blend of oils to keep strawberries from spoiling six to 15 days longer than normal. The company also plans to hire four more employees in 2017 in order to further grow sales among food supply shippers.

Updated July 2017
Website
http://hazeltechnologies.com/
Course
NUvention: Energy
Co-founders
Patrick Flynn (engineering)
,
Amy Garber (Pritzker School of Law)
,
Yuvaraj Kundasi (Master of Engineering Management)
,
Aidan Mouat (chemistry)
,
Adam Preslar (chemistry)