Bold Diagnostics
A wearable blood pressure device allows for continuous monitoring
Hypertension is one of the most influential risk factors in cardiovascular disease — the number one killer in the United States. But despite being such an important measurement of health, accurate blood pressure readings can be difficult to achieve. A patient's readings can be affected by the time of day, environment, or what they have recently eaten. Even sitting in a doctor's office can sway results.
Developed as part of the Center for Device Development's (CD2) Innovation Fellowship program within Northwestern's Innovation and New Ventures Office (INVO), Bold Diagnostics wants to redefine the way patients measure and receive their blood pressure readings. Using an innovative hardware and software system that seamlessly integrates into a patient's everyday routine, the startup technology could lead to more accurate and effective treatment of hypertension and other cardiovascular diseases.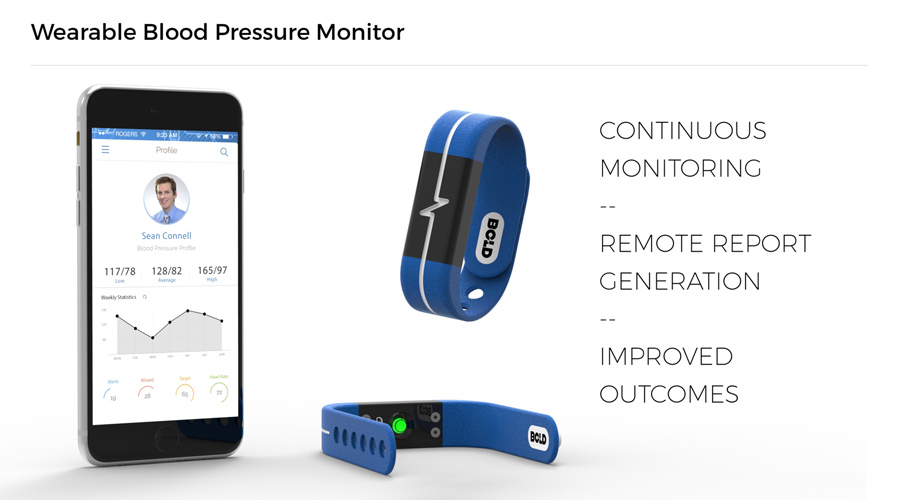 While current modern fitness trackers can record health-related measurements like heart rate, Bold Bands is one of the first wearable technologies to provide accurate blood pressure data, which is vital for helping doctors diagnose patients with cardiovascular disease.Kyle Miller, Bold Diagnostics, co-Founder
How It Works
Bold Diagnostics measures blood pressure readings using its Bold Bands, a wearable device that resembles many popular activity trackers. Using sensors placed on both wrists instead of the traditional blood pressure sensing cuff, the system monitors blood pressure trends based on differences in the pulse wave transit time between the two hands. Daily reports of the readings can be recorded and sent directly to electronic medical records, which allow doctors to study a patient's blood pressure under normal conditions outside of the doctor's office.
Benefits
Wearable device provides a comfortable, unobtrusive alternative to current blood pressure monitoring devices
Bold Bands offers real-time monitoring of a patient's condition
System reduces the risk of misdiagnosis from inaccurate readings
Comprehensive reports can easily be accessed by a patient's physician
In Search of a True Need
CD2's Innovation Fellowship sought to assemble a diverse team of engineers, clinicians, and business graduate students that would collaborate to develop and commercialize an innovative technological device. To make the most of their opportunity, the team behind Bold emphasized discovering and addressing a significant unmet clinical need. They took advantage of their observation privileges at Northwestern Memorial Hospital, where they honed in on hypertension measurement after learning about the difficulties doctors experienced in acquiring accurate blood pressure data from patients. The team then conducted research on current solutions for blood pressure measurement and analyzed patents related to modern devices, which revealed the shortcomings of many bulky, cuff-based machines.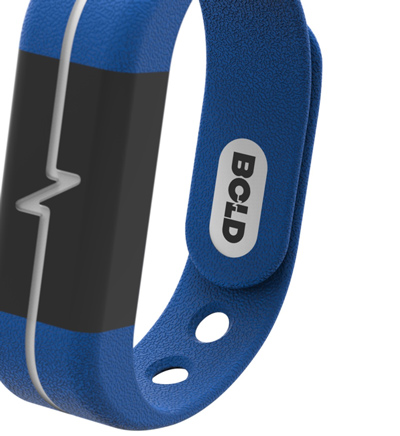 The team recognized an opportunity to disrupt the market with a device that was cuffless, ergonomic, and seamlessly integrated into a patient's everyday life. They drew from their experience taking a Segal Design Institute course with professor Walter Herbst that taught them how to think through the design process. Bold COO Kyle Miller leaned on his skills as a medical illustrator to draft initial sketches of the device, while CEO Sean Connell leveraged his background in product design to create a sleek and refined mockup that more closely resembled the current iteration of the Bold Bands.
Current Status
Soon after a fourth place finish in the 2016 Rice Business Plan Competition, where they earned $128,000, Bold Diagnostics announced that they received a National Science Foundation Small Business Innovation Research grant worth $225,000 to advance its technology and build a next phase prototype. 
Bold Diagnostics also participated in the HAX Hardware Accelerator program, which consisted of an intense six-month "boot-camp" in China prototyping the product, followed by a six-month growth phase in San Francisco. The team is conducting a study at Northwestern Memorial Hospital to determine the feasibility of the Bold system, with hopes of eventually becoming one of the first companies to offer a cuffless blood pressure monitoring solution to consumers. Bold Diagnostics is working to reach a product design freeze in order to conduct the final clinical study required by the US Food and Drug Administration.

Updated September 2019
Website
http://www.bolddiagnostics.com/
Program
Center for Device Development Innovation Fellowship
Team Members
Sean Connell, PhD (biomedical engineering)
,
Kyle Miller, MD, MBA (manufacturing and design engineering)
,
Jay Pandit, MD (Feinberg School of Medicine)
,
Andrew Wu (biomedical engineering)