Foodrop
App-based service offers cheaper lunch delivery options by featuring a rotating menu of area restaurants' most popular items
Even though they are from diverse backgrounds and majors, the students in Kunal Dalvi's NUvention: Web + Media class all have one thing in common. They are tired of the same, boring food options on campus. While Evanston and Chicago have many types of cuisine available, students, staff, and faculty rarely have time to venture out and explore new neighborhoods during lunch breaks or the short pauses between classes.
Dalvi's team is determined to put food boredom in the past. The interdisciplinary student team developed Foodrop, which is aimed at changing the competitive food delivery market by giving customers new options at a better value. The online food delivery platform partners with restaurants to offer delivery without fees for bulk orders.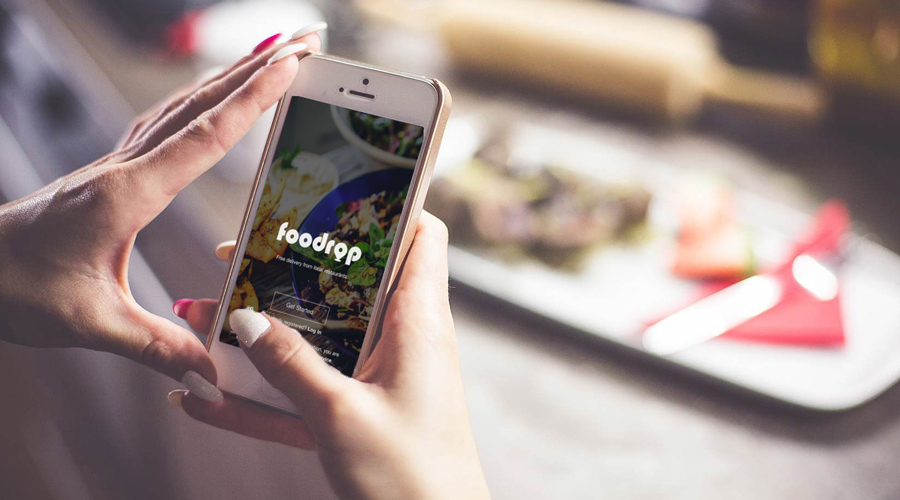 For anyone who goes to school or work in the same building everyday, the nearby food gets boring. People visit the same restaurants day after day and week after week. We wanted to introduce more variety at better costs.Kunal Dalvi, Foodrop, co-Founder
How It Works
Each day, Foodrop features a different restaurant, which offers a limited menu of popular items. Foodrop subscribers place their orders by the 10:30 a.m. cutoff time, giving the restaurant time to plan and prepare the order. Then a restaurant employee drops off the entire delivery at a specific time at one central location to be picked up by various customers.
Benefits
Restaurants offer discounts and free delivery in exchange for the new business
Customers have more order options, including restaurants that are harder to reach
Foodrop's menu rotates on a weekly basis to include more variety
The ordering process is easy and can be completed through just seven clicks
The app has a function that allows big groups to split checks easily
From Food Boredom to Food Hero
Foodrop's team readily admits that its food driven. From the start, the team members knew they wanted to do something to make dining easier. First, they brainstormed a mobile app that made it easier to split bills, which they ultimately decided was not feasible. Then they changed directions, thinking up new ideas in the domains of education, transportation, and financial services. But no one on the team felt excited. When they circled back to food, they began talking about a problem they all experienced — food boredom. That excitement propelled them into imagining Foodrop.
Current Status
Foodrop launched a pilot at the Kellogg School of Management with five Evanston restaurants this spring. The team plans to launch the business campus wide in September and eventually expand to large organizations, such as corporate offices and hospitals, in downtown Chicago.

Updated August 2016
Download the App
Foodrop
Team Members
Kunal Dalvi (Kellogg)
,
Sandeep Raju Prabhakar (computer science)
,
Jack Qiu (mechanical engineering)
,
Andrew Yang (computer science)
,
Kristen Zhou (Kellogg School of Management and MS in Design Innovation)