Breadfruit Peeler
A new tool makes peeling safer and more efficient
Four undergraduate engineers collaborated on a design project for Design 384: Interdisciplinary Design Projects. The challenge: develop a solution to improve Jamaica and Haiti's breadfruit industry.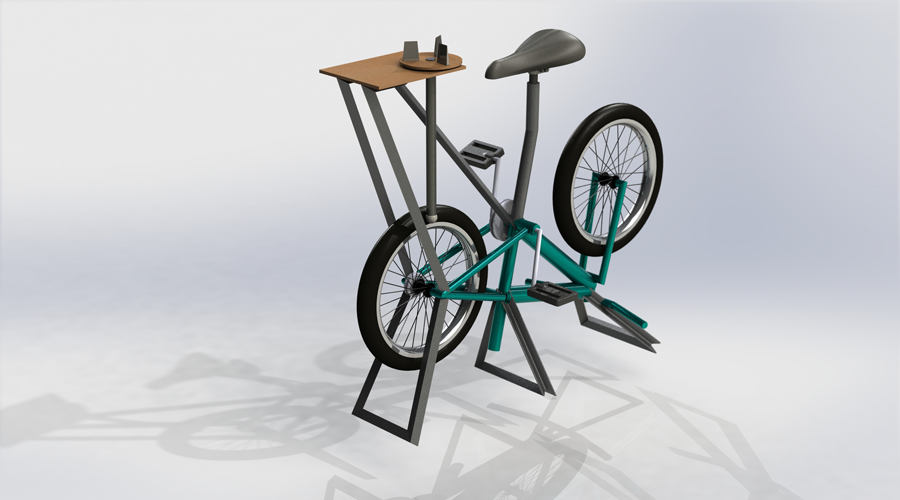 Problem
Breadfruit is a staple food in Haiti and Jamaica, but its tough, stiff exterior and dense, starchy interior make peeling it difficult. People work six-hour days to peel 30 breadfruits each. The process is physically exhausting and even dangerous — resulting in multiple accidental cuts.
The peel is similar to a cantaloupe. Imagine peeling 30 cantaloupes in a day with just a small knife. We wanted to make a peeler that is safer and works faster.Ahren Alexander, Breadfruit Peeler, Co-creator
Solution
Peeling a breadfruit requires two hands: one to turn the fruit and the other to cut it. The team in a Design 384 class created a solution that prevents exhaustion by delegating these steps to two different people. One pedals a bicycle-powered device that spins the fruit. The other holds a blade up to the fruit to peel it as it spins.
Development Process
The team wanted to address four user needs: 
Control and stability
Speed and efficiency
Economic viability
Durability
They prototyped several different ideas, including gloves with built-in blades and a pottery wheel to spin the fruit. But the bicycle-powered device stood out. Because Jamaica has a lot of abandoned bicycle parts, materials would not need to be imported. The device also does not require electricity, which can be scarce and unreliable in Jamaica and Haiti.
Current Status
The team traveled to Jamaica over spring break to test their prototype with users.

Updated May 2016
Course
Design 384: Interdisciplinary Design Projects
Team Members
Ahren Alexander (Manufacturing and Design Engineering)
,
Brandon Chen (Manufacturing and Design Engineering)
,
Elizabeth Chou (mechanical engineering)
,
Dixon Yu (industrial engineering, Manufacturing and Design Engineering)