Nigeria Wound Dressing
A device to help prevent wound infections from spreading in Africa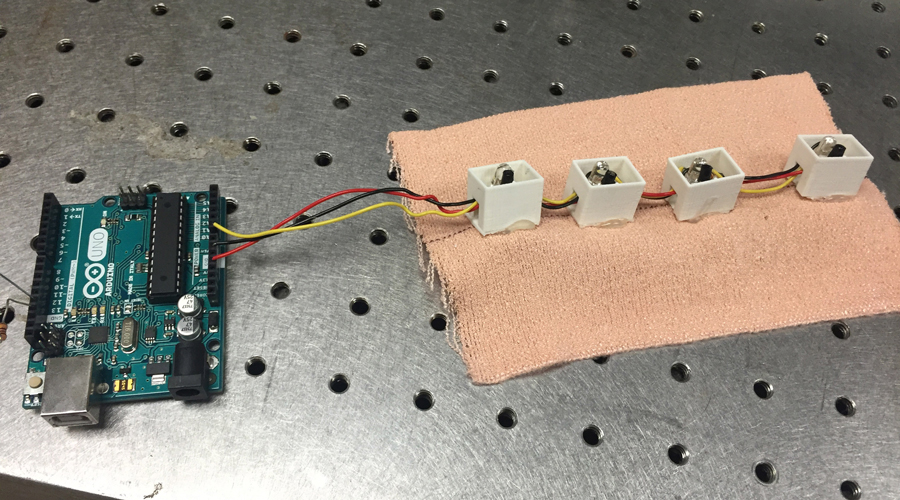 Problem
The infection rate during wound healing remains a pressing and ongoing issue in impoverished nations around the globe, including areas throughout Nigeria. Short on medical staff and basic equipment, nurses in Nigeria only make rounds every 4-6 hours and use old, ineffective dressings. These two realities lead to an alarming rate of infections.
Michael challenged the Northwestern team to design a way in which nurses could monitor the amount of exudate seeping through the bandages. She hoped for something that would alert nurses when "strikethrough" – the exudate on the outside of the bandage becoming visible – is about to occur so that they could change the dressings and decrease the risk of infection.
The United States and other developed countries might not have major issues combating wound infections during the healing process, but this is a significant problem for people around the globe that can be solved.Jack Goergen, Nigeria Wound Dressing, Co-creator
Solution
The students designed an optical device wrapped around the outside of the wound dressings. The device sends infrared light through the dressings and detects the amount of light bouncing back to the device. When the dressings get wet, the amount of light coming back changes because the absorption and scattering properties of the dressings change as well. The device detects this shift in light intensity and identifies the need for new dressings.
Development Process
Guided by Northwestern biomedical engineering professor Matthew Glucksberg, the three-member team spent multiple weeks in the beginning generating ideas for solutions, researching similar applications, and deciding if those detection methods could work.
They considered ideas such as a color-changing ink that reacted with the exudates, a phosphorescent bandage that would glow when too much exudate reacted with it, and other chemical methods that responded to the exudate in some way.
Considering the optical method their best option, they continuously adjusted the design to make it more feasible, more effective, and more reliable, though they were particularly challenged by the unpredictability of exudate seeping through the dressings. After significant testing and adjustments, their design began to consistently monitor exudate seepage in a reliable way.
Current Status
The group currently has a small-scale prototype of the device demonstrating the consistency of its strikethrough detection method. The team is now adapting its prototype into something that can be used in a clinical setting.

Updated May 2016