Pallergy
An e-learning tool to help restaurants better serve customers with food allergies
More than 15 million Americans have some form of food allergy, and that number is growing among younger generations. When they go out to eat, they place their lives in the hands of their servers, creating untold amounts of stress and risk for both parties. The restaurant industry is taking on a new responsibility: how to serve allergic customers safely, and how to signal to them that the establishment takes their health safety concerns seriously?
Responding to this growing need, a NUvention Web + Media team created Pallergy, an online education platform that teaches food service workers how to safely and responsibly handle food allergies, and provides certificates and stickers for restaurants to display as a sign they are listening and responding to their customers' needs.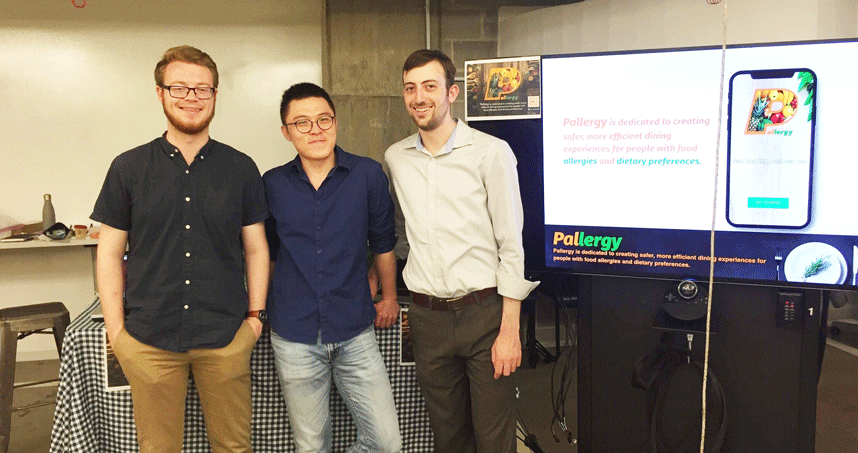 With Pallergy, we can help millions of people feel more comfortable about engaging in the shared social experience of dining out by educating the people and establishments in direct contact with their food.

How It Works
Through surveys with restaurants, Pallergy developed a paid online training course that combines informational videos, quizzes, and hypothetical scenarios for food service workers to complete at their own leisure, similar to training required in order to handle alcoholic beverages. Upon completion of the course, users will receive a printable certificate and stickers in the mail showing that they are trained in food allergy awareness and safety.
Benefits
Helps spread awareness of the dangers of food allergies across the restaurant industry
Provides peace of mind to allergic diners and their families
Gives a competitive edge for restaurants looking to meet the changing needs of their customers
Provides a resume boost for food service workers looking for employment in the restaurant industry
Healthy Dining for the Future
The Pallergy team set out to create a product dealing with food allergy awareness after being inspired by stories of allergic friends, family members, and significant others who struggled with anxiety at restaurants. As more states create laws to address food allergies, the restaurant industry will be looking for a way to ensure its servers know how to respond to any allergy-related situation.
Current Status
After an earlier iteration of the product focusing on consumers proved successful in the 2018 NUvention: Web + Media class, Pallergy entered beta testing for the e-learning product in the fall. The team is currently in discussions with potential investors as they work to prepare the platform for launch.
The Pallergy team welcomes anyone in the Northwestern community with expertise as nutritionists, allergists, or restaurant leaders to reach out if interested in helping develop the curriculum.
Course
NUvention: Web + Media
Team Members
Jordan Clark (computer science)
,
Andrew Lapin (Medill School of Journalism, Media, Integrated Marketing Communications)
,
Alex Qi (Medill)