ChargER+
A theft-proof, tamper-resistant cell phone charger
Over a nine-week span in 2015's fall quarter, four Northwestern undergraduates in the Design Thinking and Communication course designed and developed a theft-proof, tamper-resistant, easy-to-install, and economical solution that allows emergency room patients to charge their cell phones.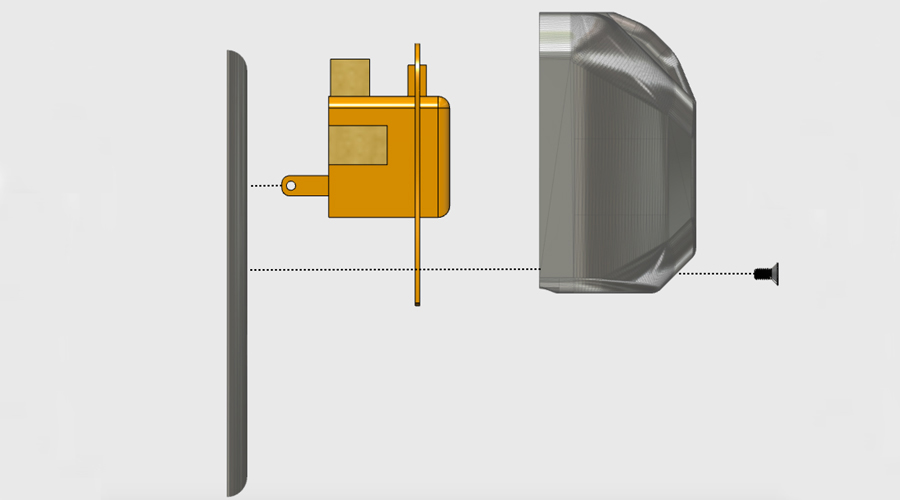 Problem
Northwestern Memorial Hospital noted a growing problem at the medical center: cell phone chargers provided to emergency room patients were frequently stolen or damaged, yet patients needed working phones for any number of practical reasons, including contacting family members. After various failed experiments at the hospital, including a policy requiring patients to exchange personal identification for a charger as well as incorporating charger locks, hospital staff were searching for a new solution that would be easy to install and maintain, difficult to steal, durable, and cost effective.
As most ER visits are unplanned, it is essential to have phone chargers that cannot be stolen or damaged in ER rooms. These phones, which can be low on battery or even out of power, need to be charged in order to access important personal information and contact friends and family.Grant Ralston, ChargER+, Team Member
Solution
ChargER+ features a VeroClear plastic case that encompasses a phone charger holding two Apple 5 charger heads as well as one micro USB charger head. The design accommodates any of the four main categories of mobile phones on the market today. 
Attached to a regulation outlet plate by epoxy and 3/16-inch screws, ChargER+ allows users to acess the charger heads and cord, but not the charger itself. The easy-to-install device is secured to the wall with a special screw not commonly available to the general population. Furthermore, the sleek-looking form is made of a resilient material, difficult to pull from the wall, and tolerates sanitary chemicals.
Development Process
The four-student ChargER+ team developed its design following in-depth research and testing, including:
Client interviews that highlighted Northwestern Memorial Hospital's issue, previous interventions, and ongoing needs
A hospital visit to better understand the scope of the problem as well as the needs of both users and hospital staff
Brainstorming a solution that would be functional, theft-resistant, easily maintained, unobtrusive, and cost effective
User testing of mockup prototypes to determine the benefits and weaknesses of each
Development of a final 3D-printed protoype for additional testing
Current Status
At the conclusion of the quarter, the ChargER+ team presented its solution to a group of hospital representatives. The hospital staff determined they would test the prototype in the ER after consultation with maintenance and hospital code managers.

Updated May 2016