Project Ouidah Solar Still
Low-cost water purifier powered by solar energy
Along with facing unreliable electricity, refugee children at the Peace Academy school in the West African country of Benin lack access to clean water due to a contaminated on-site well. To help address this problem, students involved in Project Ouidah, part of the Engineers for a Sustainable World (ESW-NU) student group at Northwestern, developed a small, low-cost water purification and filtration device powered by solar energy, which is intended to produce five liters of purified water daily.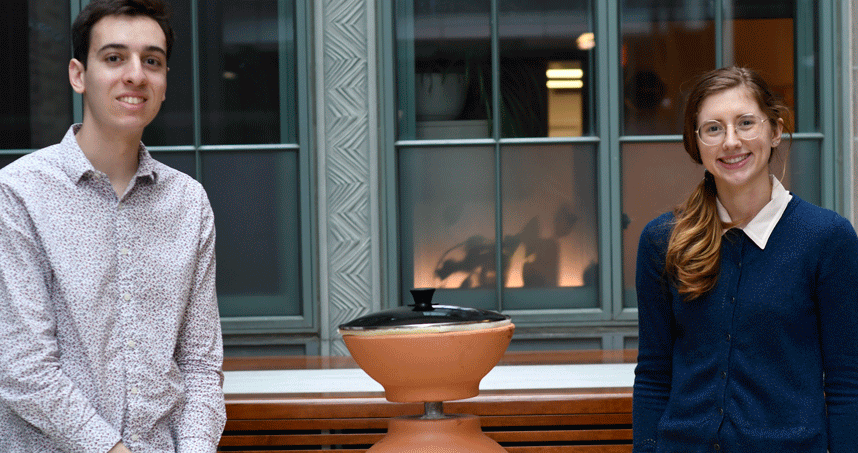 I have been able to address a critical problem for the community in Ouidah with knowledge I've gained at Northwestern. Our solution has the potential to reach the very many other communities that lack access to clean water.

How it Works:
To use the filtration device, dirty water can be poured directly into the device's top level. After placing the lid on top, the device can be left in the sunlight, consequently heating up the lid and causing the water to evaporate. The evaporated water then flows down a tube and comes out the bottom as clean water, where it condenses back into liquid water.
Benefits:
Made out of easily accessible materials
Low-cost production (costs less than $50 to make)
Simple to manufacture
Easy to use and minimal training necessary
Sustainably powered through solar energy
Development Process:
ESW-NU students spent more than two years working on this challenge, and eventually found an open project design from an Italian inventor, Gabriele Diamanti. The students worked to create a prototype of the water filtration system using affordable supplies like pots from Home Depot. The group then consulted with water expert Ken Park, assistant professor of mechanical engineering, about ways to most feasibly test the device.
Current Status:
The students plan to scale down the model to test it in a lab setting and recreate the model using materials more comparable to what can be found in Africa. Students in the Spring 2019 Design Thinking and Communication course are designing small-scale electric devices for the Peace Academy to help provide lighting for the building. Ultimately, the students plan to create a set of instructions to help the community members build their own devices, rather than trying to ship the materials to Africa.
Project Ouidah is welcoming new members to the team. Please contact Ally O'Donnell (allisonodonnell2019@u.northwestern.edu) and Anthony Sandri (anthonysandri2019@u.northwestern.edu) if interested.