Flexibrella
The Flexibrella holds an umbrella and attaches it to the armrest of the wheelchair with a flexible stem.
As part of a first-year Design Thinking and Communication (DTC) course at Northwestern, four freshmen engineering majors collaborated on a project aimed at helping residents with mobility issues pursue outside activities regardless of weather conditions.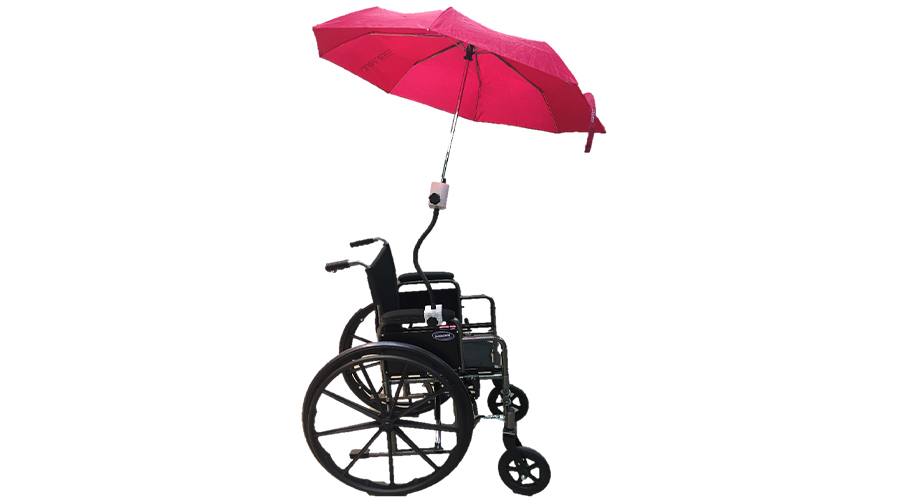 Problem
For individuals who rely on mobility aides such as wheelchairs and walkers, inclement weather can hinder their ability to travel to the grocery store, visit a friend, or derail any number of other daily tasks. With this in mind, David Johnson of at Chicago-based Eden Supportive Living challenged the DTC students to create an easy, adjustable, and secure device that would make going out in inclement weather easier and more comfortable for people who use mobility devices. 
Although simple, Flexibrella enables people who use wheelchairs to go about their daily activities without having to worry about the weather. A small change, for sure, but hopefully impactful. Amanda Mirande, Flexibrella, Team Member
Solution
The four-member Flexibrella team developed a simple, intuitive device that attaches to different wheelchairs and walkers, adjusting to different angles and heights to shield users from rain, snow, or even sun. The design includes a U-channel with a screw to attach the Flexibrella to the wheelchair, a gooseneck arm to adjust angle and height, and a cup with screws to hold the umbrella.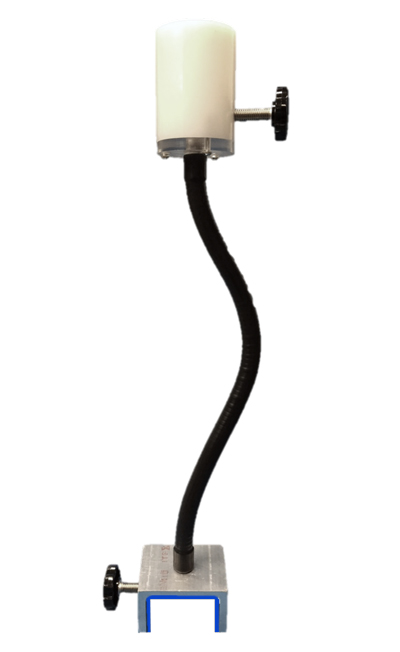 The user attaches the clamp to the armrest of the wheelchair by simply placing the U-channel in the desired location and screwing it into place. The user can then open the umbrella and set it inside the cup before turning screws to secure the umbrella into place for coverage. 
Development Process
The development process began with an initial mockup made of cardboard and PVC pipe. The mockups served well for users, but didn't hold up during performance testing. 
Though discouraging, the results spurred the creation of a stronger initial prototype. The Flexibrella team carefully selected materials: a sturdy gooseneck arm, a plastic cup with a Plexiglass base, and a clamp-like aluminum device. In testing, the group investigated the durability of the materials and the functionality of the design, specifically when implemented with an umbrella and wheelchair in inclement weather.
Additional tweaking and testing led to a final prototype: a slimmer, more compact design using a thinner and longer gooseneck and a smaller umbrella-holding cup that more firmly and carefully could attach to a wheelchair for long-term use. 
Current Status
The final Flexibrella prototype is currently in the hands of Eden Supportive Living, where residents are free to use it and are encouraged to contact the Flexibrella team with feedback and ideas. 

Updated May 2016