Pryde (formerly ShareVR)
A third-person camera that enables VR players to share videos of their adventures instantly
Business Insider estimates that the virtual reality (VR) market will total $162 billion by 2020. While VR game studios are excited about the industry's potential for growth and widespread adoption in the coming years, they are currently working to overcome a more pressing challenge: making VR more social.
Today, the experience one feels when wearing a VR headset is difficult to share. Game studios spend thousands of dollars on screen capture recordings that recreate the first-person perspective of the game, but the outcome is often a jerky, heavily edited video that is not only a challenge to watch, but is also difficult to leverage as a promotional tool to engage new audiences.
A student team in the Farley Center for Entrepreneurship and Innovation's NUvention: Web + Media course wants to make it easier to share a VR player's in-game experiences with their friends online. Their startup, Pryde, allows VR players to seamlessly create videos of their adventures from the third-person perspective and upload them to social media, fostering greater community and discussion around the promise of VR than ever before.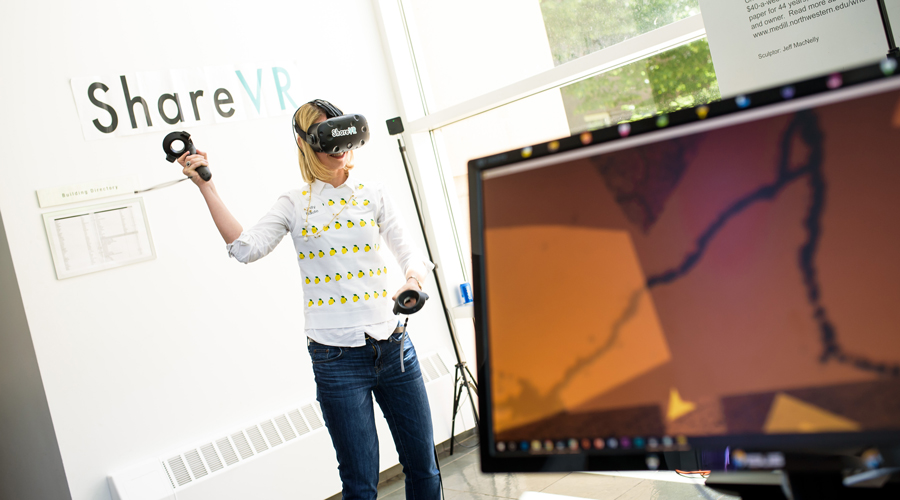 There's no easy way to connect a virtual reality player to other players and friends on social media. That's where Pryde comes in. Pryde easily plugs into the developer's game and provides a pipeline to reach out to more people in the wider social world and introduce them to the growing opportunities in virtual reality.Henry Keyser, Pryde, co-founder and CEO
How it Works
VR developers install Pryde by dragging and dropping its software development kit (SDK) directly into a VR game engine — the backend platform used to create the game's 3D renderings and architecture. Developers then send a software update to players' VR systems, which allows them to record their VR experience using voice commands. Recorded videos are immediately processed and sent to YouTube, where they can be embedded into websites or other social media channels to share with friends and fellow game players.
Pryde records video in the third-person, providing viewers a more accessible and accurate sense of the VR player's experience as they play the game, without any shaky camera movement or risk of motion sickness that plagues current screen capture practices. The audience-friendly videos can help shift current VR activity from an isolating exercise to more community-driven recreation, and encourage communication about the possibilities in the space even among those that have yet to adopt the technology.
Benefits
Voice-activated functionality allows players to share their VR experiences by simply saying "start recording" and "stop recording"
Camera's third-person point-of-view perspective shows the player as they play, presenting a comprehensive view of the action without jerky camera movement and the risk of motion sickness
Software can be easily installed in a developers' VR engine in less than one minute
Recorded videos provide an inexpensive grassroots marketing tool for developers and game studios
Making it Easier to Share the VR Experience
In researching startup opportunities in the virtual reality space, the team behind Pryde spoke to more than 75 VR players and developers. They quickly learned of the ongoing struggle to produce quality videos showcasing the VR experience without breaking the bank and exhausting resources — some creative agencies charge in the six-figures to develop VR-branded video content and campaigns. The team believed it could help make VR more accessible to new users with a cost-effective software plugin that makes it easy to share how fun VR can be.
"There has been a lot of hype built up around what is possible with VR, but nobody has been able to see it," said Henry Keyser, Pryde co-founder and CEO. "We want to help the 1.9 million virtual reality players show their friends at a grassroots level what they're excited about or encourage them to give VR a try. Even if someone doesn't own a headset, they can still watch and understand what VR has to offer."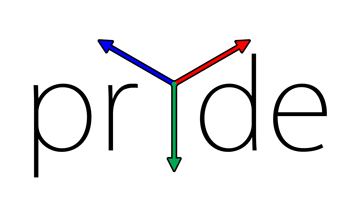 Current Status
The team presented Pryde (then called ShareVR) to peers and the NUvention: Web + Media advisory board during the course's final presentations in June. Soon after, the startup became incorporated and entered into The Garage's Wildfire summer accelerator program, where the team will further develop the business side of Pryde with help from The Garage's network of lawyers, CEOs, accountants, investors, and other mentors. Keyser also appeared during a segment on WGN Radio in July to discuss the virtual reality landscape and how Pryde could assist developers in enhancing player experience and building community. 

Updated August 2017
Course
NUVention: Web + Media
Team Members
Chen Chen (PhD biomedical engineering)
,
Henry Keyser (MSJ, Medill School of Journalism, Media, Integrated Marketing Communications)
,
Adam Muhammad (BS computer science)
,
Vivian Qiqi Zhang (MSJ, Medill School of Journalism, Media, Integrated Marketing Communications)
,
Ellie Burgess (former group member, School of Communication)
Website
http://www.prydevr.com
LinkedIn
Company Page