Intelligent Flying Machines
An intelligent drone that can autonomously capture data at construction sites
Founded by Northwestern Engineering computer science student Marc Gyongyosi, IFM is a startup developing intelligent drones specializing in automated indoor construction site inspections.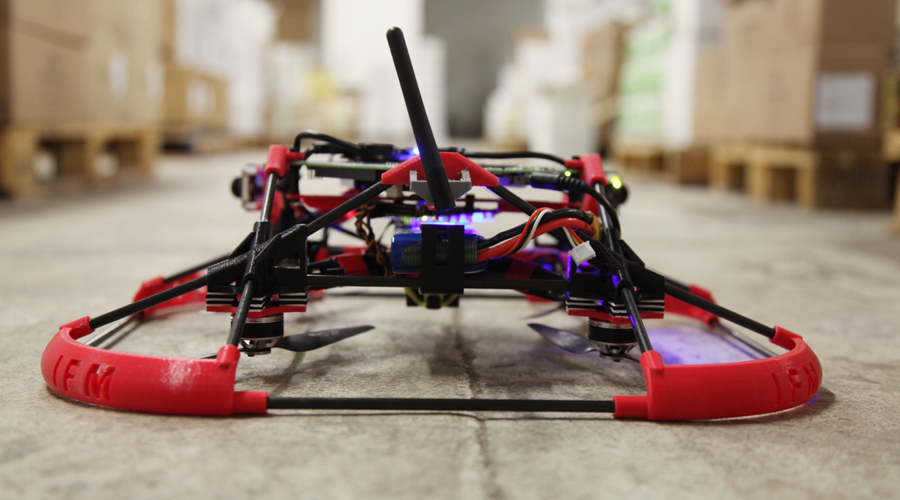 Problem
Construction site inspection requires a construction worker or member of the building team to take photos with a smartphone or camera and send them to the site's stakeholders so they can review progress. It is a highly manual task that takes approximately four hours to complete every day. Current site inspection practices are slow, expensive, and inconsistent, with $55 billion of construction spending every year going toward fixing errors resulting from poorly-completed inspections. 
Increased transparency and taking advantage of new data sources from the construction site can minimize this operational risk.
Similar to Google Street View, our platform enables remote walkthroughs of indoor spaces. Imagine the CEO of a company sitting in his office in Chicago while walking through his company's construction site in Miami, all without leaving his desk.Marc Gyongyosi, IFM, founder
Solution
IFM' Intelligent Flying Machines (IFM) are flying drones that autonomously capture data from unstructured environments without the use of GPS. Instead, the machines use onboard cameras, embedded NVIDIA GPUs (graphics processing unit), and IFM's Computer Vision algorithms to obtain highly accurate positioning information. The result is a small, lightweight drone that can complete the automated inspection of indoor spaces faster, more accurately, and less expensive than traditional alternatives. 
Benefits
The platform automates the tedious process of data capture in indoor spaces
The drone's data presentation allows for remote walkthroughs of construction sites
IFM's video analytics software supports visual inspection by suggesting points of interest, detecting hazardous objects, and monitoring changes on site
Development Process
IFM was developed following two years of researching, experimenting, and iterating autonomous indoor drones. Early stage testing was conducted during the iterative design process, where prototypes were flown at multiple test sites to help the team determine how their technology could be best applied as well as the system's primary capabilities and advantages. The team also used customer interviews and market research to help tailor the IFM platform to specific market needs. 
Current Status
IFM is testing its drones as part of a number of pilot projects across different industries, which they hope will establish their startup as the standard for accuracy and reliability in automated indoor scene inspection. In September 2016, the team made their business pitch at TechCrunch's Startup Battlefield competition. In April 2017, the startup won the $25,000 Rice Brown School of Engineering Tech Innovation Prize at the Rice Business Plan Competition, as well as first place at the University of Oregon's New Venture Championship.

Updated May 2017
Website
http://ifm-tech.com/
Team
Marc Gyongyosi (computer science)
,
Siddarth Jain (computer science PhD)
,
Nathan Matsuda (computer science PhD)
,
Sushobhan Ghosh (computer science PhD)
,
Alexis Baudron (engineering)