Boost
An energy-harvesting trekking pole
An avid hiker, MS in Engineering Design Innovation (EDI) graduate student Torey Kocsik wondered if she could passively power her electronic devices while walking in the backcountry. The result of that contemplation: Boost, Kocsik's innovative EDI Thesis Project.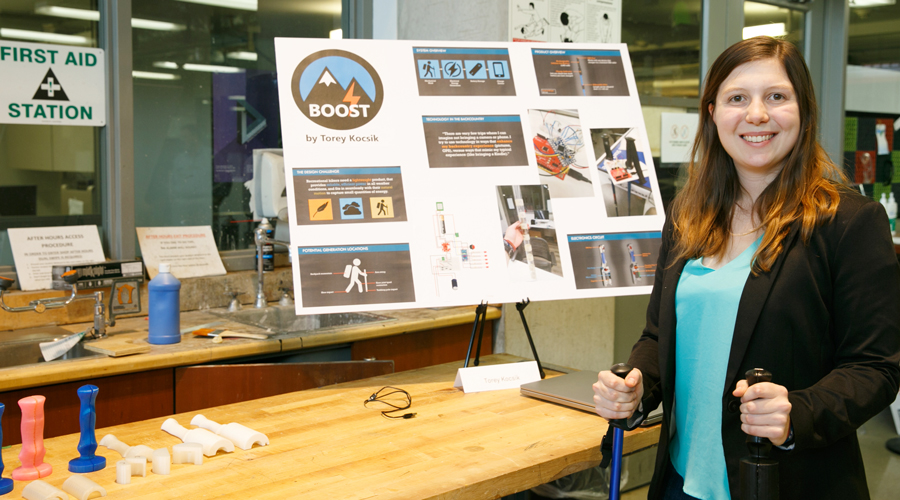 Problem
Outdoor enthusiasts need a reliable, efficient method to charge personal electronic devices in an off-the-grid wilderness environment. Charging a phone, for example, allows hikers to capture inspired images, determine their GPS location, or perform any number of other practical tasks.
Currently, there are a handful of products on the market that can power electronic devices in the backcountry, but each carries inherent flaws: portable solar panels only work in sunny weather and have no value in the woods; external battery packs can only be recharged from a wall outlet; and a few concept designs harvest creative sources of energy, such as flowing water, but do not allow the hiker to collect energy when they're on the go. 
Although many outdoors enthusiasts say that escaping technology is a primary reason they like to spend time in nature, these same people are bringing more devices with them into the backcountry, heightening the need for portable, rechargeable power in off-the-grid settings.Torey Kocsik, Boost, Creator
Solution
Designed for hikers and backpackers who bring their electronic devices into the backcountry, Boost is an energy-harvesting trekking pole. An internal linear induction generator captures kinetic energy generated from the natural up and down motion of walking. That energy then charges an on-board lithium ion battery that can be used to power electronic devices via a USB port located at the top of the device's handle.
Development Process
Kocsik's project included two main phases: user research and prototyping.
In the user research phase, she: 
narrowed down her broad topic area to focus specifically on hikers
interviewed outdoors recreationalists and conducted a large online survey to understand common problems plaguing the outdoor experience
In the prototyping phase, she:
developed the induction generator, the handle's form, and the electronic circuit
designed the handle, the circuitry's main housing unit, and used 3D printing to rapidly prototype an ergonomic form factor that also provided room for all of the necessary internal components
created an optimal induction generator that would both harvest as much energy as possible and fit within the hiking pole's hollow body
Current Status
Kocsik built a working proof-of-concept prototype of Boost to present at her EDI Thesis presentation in December 2015. Though she has no concrete plans to further develop Boost, she remains open to the idea of revisiting the project again and potentially connecting with an outdoors product company to advance the design.

Updated May 2016