Plus One
A YMCA program that seeks to engage expectant mothers and young families with the facility's family-centric model
The YMCA in Evanston wanted to spur membership and retention at its facility, specifically among youth and those under age 35. A group of seven MMM students – a dual degree program for innovation that pairs an MBA from the Kellogg School of Management with an MS in Design Innovation from the McCormick School of Engineering – answered that call during a Research, Design, Build course led by MMM co-director Greg Holderfield.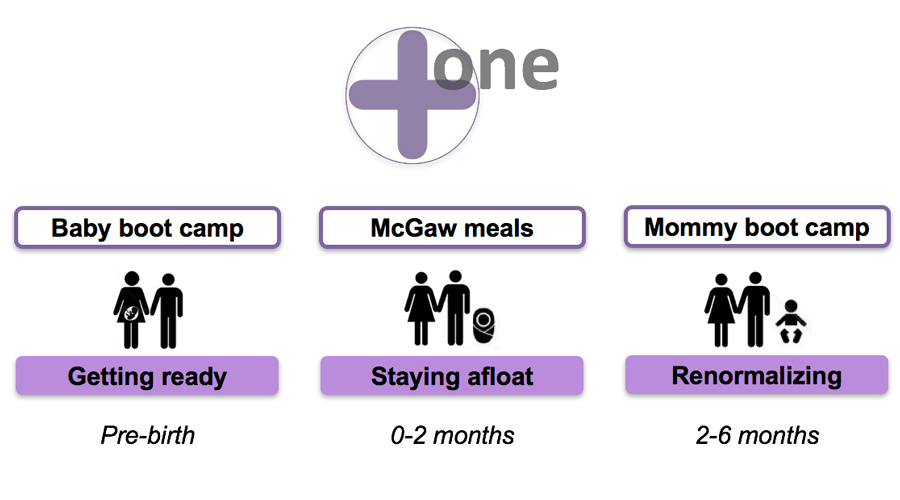 Problem
At the YMCA in Evanston, less than 16 percent of members are under age 35. With consistent struggles attracting and retaining youth and young adults, the community-based facility sought an innovative solution that would drive membership and spotlight the YMCA's value throughout various stages of life. 
Some of the most compelling business ideas come from a place of real, personal need, and, at the time of this project my wife and I were barely keeping our heads above water with our newborn. This context enabled genuine empathy during the research phase of the project and, ultimately, helped our team develop a meaningful solution to many of the challenges faced by young families.KJ Plank, Plus One, Team member
Solution
Plus One targets expectant mothers and young families, seeking to engage them with the facility's family-centric model. The program introduces three programmatic solutions, each addressing a critical phase before and after birth:
Baby Boot Camp: a pre-birth program for expectant mothers to learn about pregnancy, baby care, home preparation, and managing emotions
McGaw Meals: a program for parents and newborns (0-2 months) designed to provide tangible strategies to help parents stay afloat and successfully adjust to life with a newborn
Mommy Boot Camp: for parents and their growing infants (2-6 months), Mommy Boot Camp aims to help parents resume socialization and ease the transition to daily routines and responsibilities
Development Process
To better understand the community's needs, the Plus One team first immersed themselves in the lives of current and prospective YMCA members. The seven-member group:
Visited the YMCA as "secret shoppers" to identify habits, likes/dislikes of existing members, and perceptions of the surrounding community toward the facility
Conducted ethnographic research to identify, dissect, and understand the true needs of expectant mothers in the Evanston community
That research was organized into storytelling frameworks that highlighted prospective solutions, which were then evaluated for feasibility, viability, and desirability. With prototypes created, the Plus One team shared its solutions with Evanston YMCA leadership for feedback.
Current Status
The YMCA in Evanston as well as some of its sister facilities have adopted Plus One as a primary recruitment and engagement tool, hopeful the three-pronged program can attract new and expectant mothers and showcase the value the YMCA can deliver to their everyday lives and families.

Updated May 2016
Program
MMM
Team Members
Gerardo de la Piedra
,
Rodrigo Garza
,
John Griffin
,
Tory Lancaster
,
David Lawrence
,
KJ Plank
,
Alex Wearn
Community Partner
YMCA Evanston