City Health Tech
A device stressing the importance of washing hands correctly
Handwashing is a routine part of everyday life, but knowing how to do it properly doesn't seem to be common knowledge. In fact, Ibraheem Alinur's mother was studying to be a nurse and had spent an entire class learning how handwashing can drastically reduce the spread of infections. She told her son people were encouraged to sing "Happy Birthday" twice to make sure they washed long enough. Not only that, but nobody had collected any meaningful data on handwashing practices.
The issue took on even more prominence due to the outbreak of COVID-19, which has added even more importance to sound hygiene practices.
The entrepreneurial Alinur formed a team that developed Opal, a wireless waterproof device with a screen that sits next to the faucet. With colorful on-screen prompts, Opal coaches people through the proper handwashing steps, then thanks them for their efforts, and also collects data about handwashing.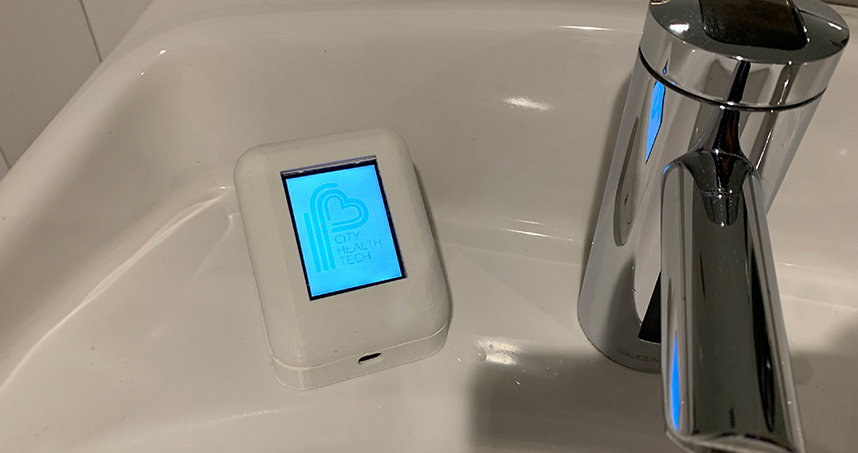 A lot of people are paying attention to handwashing now. It's one of those interesting moments when we should be focused but we don't pay attention. Ibraheem Alinur, Founder
Development Process
The team undertook three years of research and prototyping. City Health Tech includes 18 Northwestern students — 10 from the McCormick School of Engineering. The team is supported by the lab of Erica Hartmann, assistant professor of civil and environmental engineering, and Heather Aranyi, adjunct lecturer at the Farley Center for Entrepreneurship & Innovation.
 
The 3D printed device itself was built using prototyping facilities at The Garage, Northwestern's incubator for student-run businesses.

Current Status
Customers can buy the device on City Health Tech's website. For each unit purchased, one will be donated to a low-income school. Ahead of the quarantine orders, five Chicago-area schools had Opal installed.
 
By fall, he's looking for Opal to be in more area schools and businesses, and he hopes Opal will be installed by individual homeowners by early 2021, as handwashing gains attention because of the ongoing pandemic. Alinur has also made multiple media appearances, and City Health Tech was named one of the nation's top student startups.
Updated July 2020